Glass Glazing In OC
Are you looking for a professional Glass Glazing installer in Orange County? LaTour Builders Inc. is a full service Residential and Commercial tenant improvement glazing professional in Orange county location and takes excellent pride in ensuring that each and every build-out projects are finished in a prompt way while supplying top-notch work at a sensible expense. With La Tour Builders, you will have assurance understanding that your office, dining establishment or business space will be ready for your scheduled plan.
Glass Railings
Glass railings look charming and include luster to your décor. It is possible to improve a glass railing all by your self and that too with really little expenses. The short article provides you the information of dealing with glass railings. Latour Builders is a professional Glass Glazing installer in Orange County.
We are a full-service business glass and glazing general professional focused on projects including specialized systems and items. Our internal fabrication abilities and relationships with leading manufacturers and providers enable us to be reactive to tough projects and schedules seen today.
We have the biggest selection of glass railing for sale in Orange County. We supply custom-made fabrication and installation service for custom-made glass railings. We also supply the most safe and quickest installation and replacement service. Glass railings are highly in demand as they are made from highly resistant material and are incredibly durable and devoid of corrosion.
There is perhaps absolutely nothing more stylish than a railing made of glass– in feel, in touch, in look, and in simple style functionality. The openness of glass railing systems gives an unequalled modern look and functionality– no longer will your railings hinder your view from your balcony or deck.
At La Tour Builders, we take pride in developing both modular and custom-made glass railings, fulfilling the recognized structural requirements. Whether you are searching for decorating your property or business space, we are experts in developing and setting up structural glass railings, aluminum railings, and stainless steel railings.
Glass Glazing
Glass Glazing, which stems from the Middle English for 'glass', is a part of a wall or window, made of glass. Glazing also describes the work done by a expert "glazier". … Toughened and laminated glass can be glazed by bolting panes straight to a metal framework by bolts going through drilled holes. Glazing are described the panels that are fixed into the aluminum or other types of frames to curtain wall construction. Commonly, there are numerous methods which can be used in the construction or placement of glazing panels; glaze panels might be glass or other products.
For over a years, we have installed aluminum framed windows, store systems, drape wall systems, doors, and hardware for business construction projects in business structures and homes throughout the Orange County, California. We can deal with any sized project and can fulfill the most requiring deadlines. Latour Builders is a professional Glass Glazing installer in Orange County.
Glass Canopy
Glass Canopies assist accentuate your architectural style without compromising charm and protection. Each system can be custom-tailored to your style requirements, and custom-made engineered to fulfill your spec requirements, consisting of glass, point-supported fittings, store illustrations and PE samples. A complete selection of clear, low-iron, acid-etched and tinted glass substrates are readily available to be heat-treated and laminated for your application. Laminated glass is readily available with Trosifol ® SentryGlas ® ionoplast interlayer. SentryGlas ® is recommended for exposed-edge applications. The interlayer provides the exceptional advantages of improved clearness, increased structural stability and better edge stability over that of PVB. Latour Builders is a professional Glass Glazing installer in Orange County.
LaCantina Doors
LaCantina doors are not just beautiful, they are also really durable. LaCantina is a pioneer in developing and manufacturing big opening door systems. Our focus in developing and improving these items has actually led to the most innovative and comprehensive series of folding, sliding and swing doors readily available to improve indoor outdoor living.As a pioneer in folding door systems LaCantina sets the requirement for design, function and performance. Using the highest quality rolling hardware and robust panel and frame designs, our systems supply smooth and effortless operation unequaled by other big opening door systems. Latour Builders is a professional Glass Glazing installer in Orange County.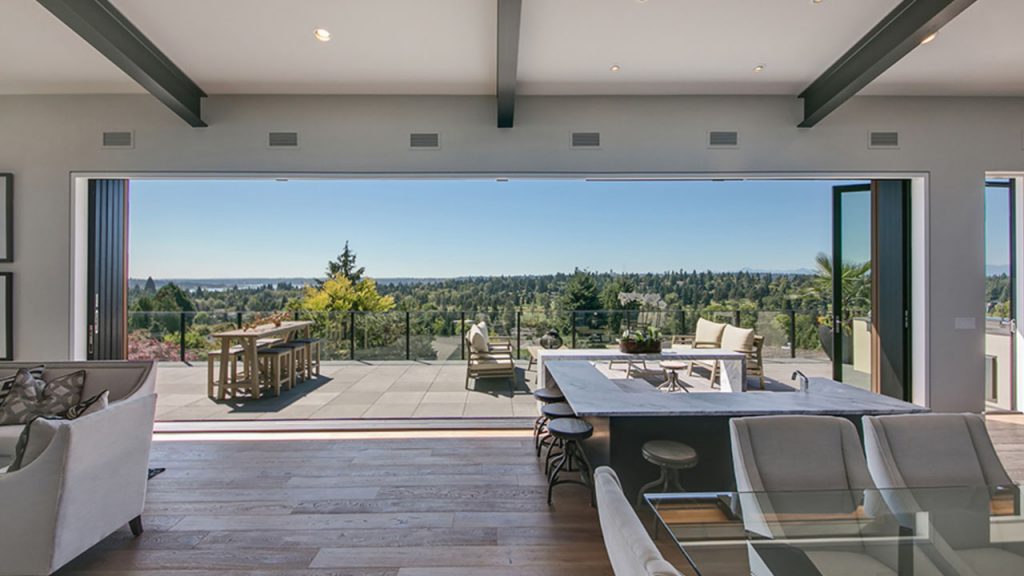 Curtain Wall
A curtain wall is specified as thin, typically aluminum-framed wall, including in-fills of glass, metal panels, or thin stone. The framing is attached to the building structure and does not carry the flooring or roofing system loads of the structure. A curtain wall system is an external covering of a structure in which the external walls are non-structural, made use of just to keep the weather condition out and the occupants in. Given that the curtain wall is non-structural, it can be made of lightweight products, thus reducing construction expenses. Latour Builders is a professional Glass Glazing installer in Orange County.
Storefront Installation
To include a brand-new measurement of space and lighLatour Builders is a maker of high-quality storefronts installation and renovation in Orange County California. Our experienced team focuses on the tiniest detail. As a custom-made store production experts, we style and install your store without problems. Using the very best store products and ideal installation, you do not have to stress over fading– what you liked about our store style is what you'll like about the completed project.
In Orange County, all retail organisations require to look appealing expert, modern and– crucial of all– inviting. The physical location of your shop can draw more visitors with a striking glass store style that lures passersby.
We manufacture and develop your store that reflect the character of your organisation; it does not have to appear like every other organisation along your street. Latour Builders is among the very best store professional business in Orange County. We can equate your ideas and dreams into a store style you'll be proud of. Trust our store fabrication experts when it pertains to your store style– the most important asset of your organisation. Latour Builders is a professional Glass Glazing installer in Orange County.
Custom Mirrored Walls
Need a custom mirrored walls for your home or business? To include a brand-new measurement of space and light to any room, a custom-made mirrored wall is the response. Let Latour Builders craftsmen create a special look for you with plain, bevel-framed or beveled mirrors in silver or in tints.provides mirrors cut nearly any spec and provides installation in the Southern California location. Latour Builders is a professional Glass Glazing installer in Orange County.
Our mirror services include layout, fabrication and installation of:
Large bathroom mirrors
Custom framed and unframed wall mirrors
Frameless vanity mirrors
Oval and beveled vanity mirrors
Mirror bars with floating glass shelves
One way mirrors
Antique and tinted mirrors
Mirror walls
Ballet bars
Mirrored ceilings
We can also install mirror walls in your bedroom, living areas, and home gym.
Latour Builders specializes in the following services:
Glass Railing | Glass Glazing | Glass Canopy | LaCantina Doors | Aluminium Curtain Walls | Storefront Installation | Custom Glass Mirrors
Beverly Hills |Newport Beach |Santa Monica |Irvine |Dana Point |Coto De Caza |Laguna Niguel |Los Angeles |Aliso Viejo |Mission Viejo |Lake Forest