Glass Canopy
Latour Builders is an experienced glass canopy contractor in Orange County California. The glass canopies can be incorporated into freestanding structures, pavilions, walkways, and other covered entrances for commercial, industrial, and transportation applications.glass canopy
"Glass canopies are well suited for either contemporary or historical designs, and for completely custom creations. They blend form and function—allowing people to enjoy the sunshine and views in good weather conditions while sheltering them from rain and snow. Our glass canopy system can be ordered in a variety of shapes and sizes. It is purpose-built to fabricate, ship, and install quickly at competitive pricing."
All of Latour Builder's glass canopy systems are manufactured at its facility in Orange County, California. Our glass canopies are engineered for long spans, up to 12′ lengths, and glass panels with 9/16″ or larger thicknesses. The glass canopy accommodates slopes as low as 1:12. Optional glass coatings and custom silk-screen patterns help to diffuse the direct top-lighting and to control unwanted solar heat gain. If future updates are desired or repairs needed, the glass panels are individually replaceable.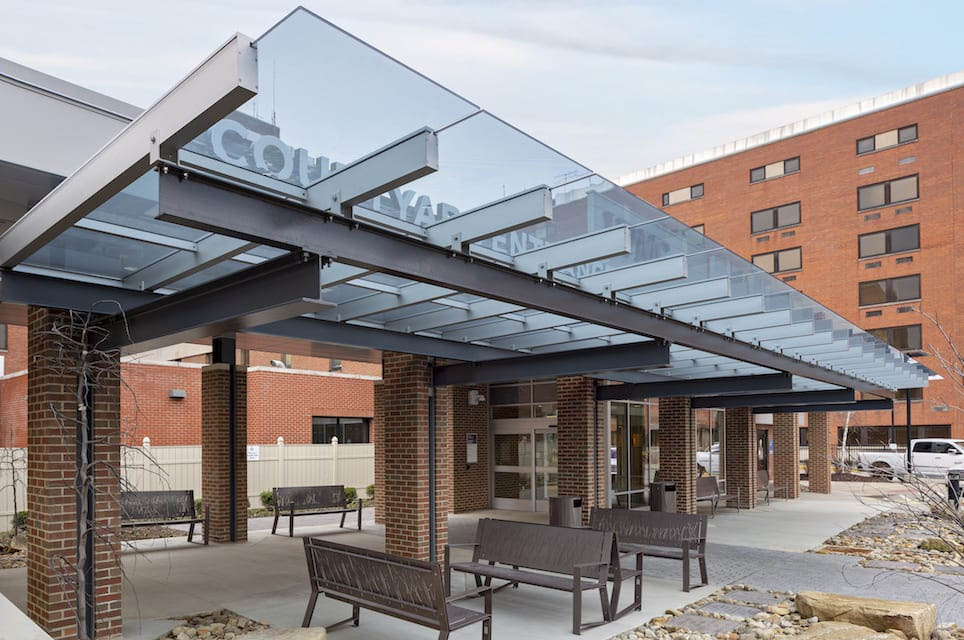 The self-supporting, aluminum-framed canopy system incorporates continuous mullions that rigidly secure the glass. Demonstrating its structural performance, our glass canopy is tested to meet ASTM E-330 deflection of less than L/240 at 60 psf. In addition, the system has passed industry-standard testing for flame spread and smoke generation, and air and water infiltration. Effectively managing water, the glass canopy features a proprietary, internal guttering system tested per ASTM D-331 to 15 psf.
The glass canopy is weather-resistant with aluminum framing that may be specified in a choice of anodizing finishes or high-performance factory-applied coatings. Contributing to sustainable design goals, the aluminum framing system uses recycled aluminum as standard. After its useful life as part of a canopy, the metal is 100% recyclable.
Glass Canopies help accentuate your architectural design without sacrificing beauty and protection. Each system can be custom-tailored to your design requirements, and custom engineered to meet your specification requirements, including glass, point-supported fittings, shop drawings and PE samples.
A full selection of clear, low-iron, acid-etched and tinted glass substrates are available to be heat-treated and laminated for your application. Laminated glass is available with Trosifol® SentryGlas® ionoplast interlayer. SentryGlas® is recommended for exposed-edge applications. The interlayer offers the unparalleled advantages of improved clarity, increased structural integrity and better edge stability over that of PVB. A five-year warranty on edge stability for SentryGlas® interlayer is available on a project basis. A translucent white interlayer or ceramic frit silk-screened pattern can be used to reduce both glare and the appearance of dirt on the canopy surface. Heat-soaking also is available to help minimize spontaneous breakage due to nickel sulfide inclusions.
For a free consultation and to get a free estimate on the cost of glass canopy, please call us today.
Latour Builders specializes in the following services:
Glass Railing | Glass Glazing | Glass Canopy | La Cantina Doors | Aluminium Curtain Walls | Storefront Installation | Custom Glass Mirrorrs
Our Latest Projects
Click below to view some of our past projects.